Gates' Contraception Summit To Enrich Abortion and Population Control Groups
Gates' Contraception Summit To Enrich Abortion and Population Control Groups
The Bill and Melinda Gates Foundation wants to gather commitments of billions of dollars from heads of state and other leaders for contraceptive programs aimed at poor women.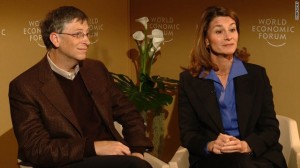 The Gates Foundation also wants governments to help overcome what they consider to be "barriers" to contraceptive use such as parental involvement. These efforts will take place at a Gates-sponsored Family Planning Summit on July 11 in London.
Melinda Gates insists the campaign is not associated with abortion or population control.
She says is it about enabling women to choose as small or large a family as wanted. Yet the Summit provides no support for maternal or child health, and its primary partners have engaged in forced abortion and sterilization campaigns.
Even Amnesty International fears the campaign will "return to coercive family planning programs."
In fact, contrary to the two main arguments promoted by family planners,
studies show
that greater access to contraception does not result in fewer pregnancies or abortions.
Link